The Heat is On - Women's Cycling Team Ceratizit WNT Pro Cycling partners with CORE Body Temperature Monitoring
As the 2021 racing season heats up, the German UCI Women's Continental Team, Ceratizit WNT Pro Cycling has partnered with CORE Body Temperature Monitoring from Switzerland which gives the riders cutting-edge sports performance technology for advanced training and racing insights.
While heart rate monitors and power meters are commonly used in professional cycling, it has been difficult to track the rider core body temperature during training and racing although this is a vital metric because power output declines when riders get too hot. The CORE sensor is a compact, wearable device that clips securely to the heart rate monitor strap and provides real-time, accurate monitoring that displays on the Wahoo cycling computers.
The athletes can rely on the core body temperature data during training to condition themselves with heat-training as well as for smarter racing, for example, active cooling during racing to unlock more power.
Team Ceratizit WNT Pro Cycling Performance Coach Carmen Small says, "I think it's extremely beneficial to do everything we can as a team to help the girls to perform at their best, and CORE is another partnership that will certainly help us accomplish that. We hope to involve everyone that is surrounding the athletes, to build a strong support, therefore we can get the best out of them individually and their performance can be maximised. It's a team of people to help accomplish this, and CORE is an integral part."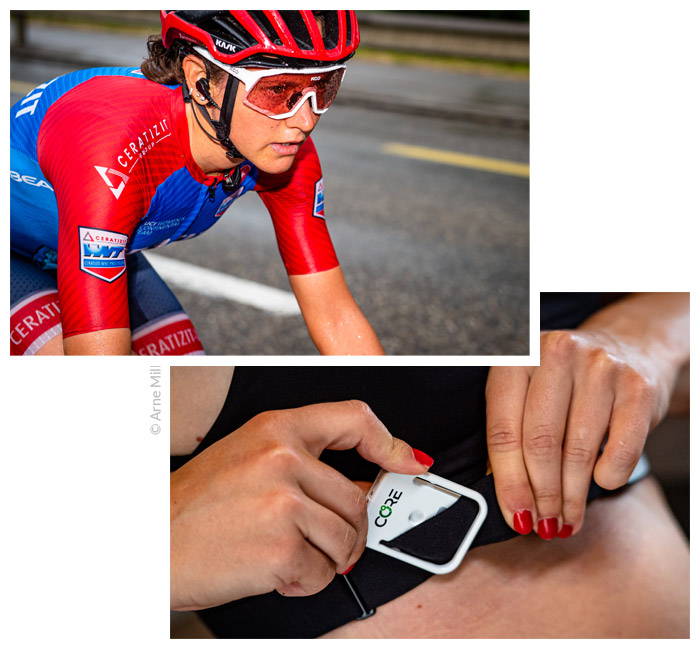 28-year-old Danish Ceratizit WNT Pro Cycling Rider Julie Leth adds, "As pro athletes we're always trying to find ways to improve and now, by monitoring and measuring our CORE temperature and holding it up against our training and racing data, we can understand how our body reacts and works with heat. Essentially it will help us improve our performance overall and this is excellent that the team and CORE are helping us identify new ways to improve."
greenTEG AG CEO, Wulf Glatz says, "Supporting Ceratizit WNT Pro Cycling is a proud moment for the entire team at CORE as we seek to actively support women in sport. It is a privilege to be able to work together with Carmen Small and her team of outstanding riders. With CORE Body Temperature Monitoring, the riders and coaches of Ceratizit WNT Pro Cycling are at the cutting edge of sports performance technology." 
The CORE technology is made by the Zurich-based greenTEG AG who also supply the medical sector and photonics industry with the thermal energy transfer sensors that are used in CORE. 
The CORE Body Temperature Monitoring sensor is a compact unit that clips securely onto the heart rate monitor strap, it measures live core body temperature metrics and records data directly onto the wahoo cycle computer. CORE is built with an advanced, Swiss-made, thermal energy transfer sensor which delivers measurements with medical grade accuracy. It is the only wearable solution that allows athletes to capture highly accurate core body temperature data without the need for an ingested or inserted thermometer.


Photos © Arne Mill
---