How does CORE compare to other thermometers?
CORE is the most accurate and reliable non-invasive core body temperature monitor. Many types of thermometers are used in clinical and laboratory settings. Most are either invasive, not accurate for exercise, not practical for sports, and/or too expensive for regular usage. Below, we examine their differences and compare their suitability for sports.
Skin versus core temperature
It is important to understand the difference between skin temperature and core temperature. Skin temperature can change quickly and is highly dependent on clothing, sweating, air temperature, sun exposure, etc. By itself, skin temperature does not influence or predict sports performance. In contrast, core temperature is the temperature of the body's internal organs and changes relatively slowly. An overly high core temperature causes a decrease in sports performance.
Core body temperature can be measured by three different types of sensors: insertable, ingestible, and external.
Insertable thermometers include the pulmonary artery catheter, the oesophageal tube probe, the urinary bladder catheter, and the continuous rectal probe. These are highly accurate devices suitable for clinical and laboratory use, but they are also quite invasive and very uncomfortable. The first three must be inserted by a trained medical professional. While the rectal probe is sometimes used in sports laboratories, it is not practical for sports usage outside the lab.
The electronic temperature pill (e-pill) is about 2.5 cm/1 inch long and contains a temperature sensor. Once swallowed, the pill wirelessly transmits the core body temperature for 18–30 hours until it passes from the digestive system. E-pills are highly accurate. They cost over 65 euros (70 USD) each and require specialised equipment to record the data.
Sensors that measure temperature from outside of the body include CORE, tympanic (ear) thermometers, and skin thermometers (forehead and armpit).
The CORE sensor is typically mounted on a chest strap – either a heart rate monitor or a bra strap. Users find CORE very comfortable to wear during sports and everyday living. Compared to insertable and ingestible thermometers, the CORE device gives medium/high accuracy during exercise and high accuracy during everyday living situations. The repeatability of its measurements is high for both exercise and everyday living.
Tympanic thermometers measure core body temp by inserting a small probe in the ear. Their accuracy is low/not suitable for exercise, and low/medium for everyday living applications.
Temporal (forehead) scanners and axillary (armpit) thermometers measure skin temperature, not core temperature. Thus, they are not useful for monitoring exercise or everyday living trends such as circadian cycles.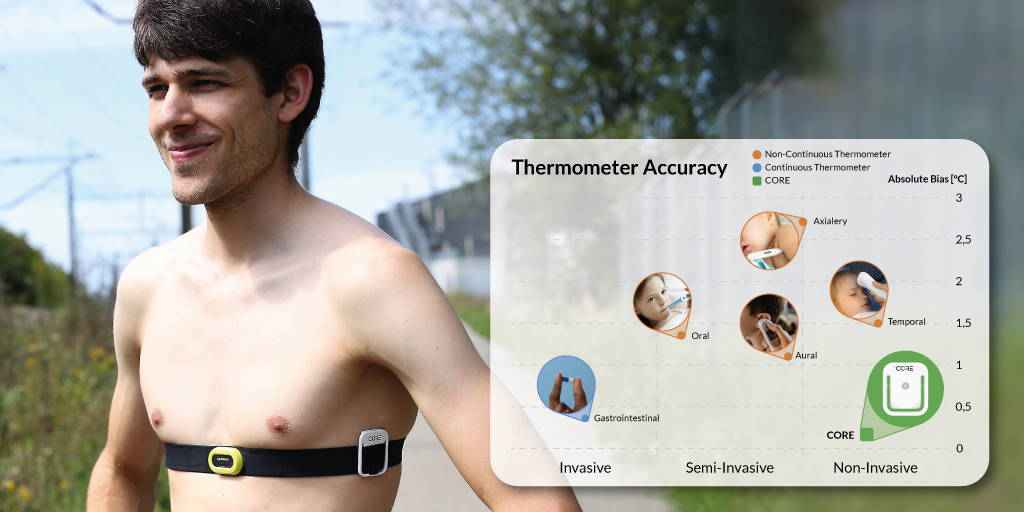 We can use four criteria to evaluate real-world practicality for athletes training and racing outside the laboratory: invasiveness; accuracy; usability in sports; and cost.
Insertable and ingestible devices have medium to high invasiveness. While rectal probes can be used during exercise, most users find them very uncomfortable. E-pills are unobtrusive once swallowed, but food consumption must be coordinated with their use. External sensors, including CORE, all have low invasiveness.
While insertable devices have high clinical accuracy, most are not usable during exercise. Rectal probes, as well as the ingestible e-pills, have high accuracy during exercise and everyday living. The CORE device gives medium/high accuracy during exercise and high accuracy for everyday living situations. CORE has high repeatability during both situations. CORE's accuracy is not derived from a static technology – it is continuously evolving, and we foresee it becoming even more accurate.
Other external devices such as tympanic (ear), forehead, armpit and oral thermometers have low accuracy and are not suitable for exercise. Their accuracy in everyday living is also low.
Usability in outdoor sports
The rectal probe and other insertable devices are impractical for use outside the laboratory. The e-pill has medium usability for some outdoor sports, with the primary limitation being the size of the data logger. The data logger could be attached to a bicycle, and with some difficulty attached to a runner.
Use of the e-pill in sports is also constrained by the electronics and battery inside it. An athlete using an e-pill who has an accident cannot be examined with an MRI machine because of these electronics. The possibility of medical exams being precluded after injury has caused some coaches and athletes to not use e-pills in competition or training outside the lab.
The CORE device is highly usable during outdoor sports and has been validated for cycling, running and hiking. The CORE's data logger is the athlete's standard sports watch or cycle computer. Other external sensors are not practical for sports usage.
Insertable thermometers have a medium/high cost. E-pills have a high cost, at over 65 euros (70 USD) per pill (suitable for 18–30 hours), with expensive data loggers. The CORE device has a medium one-time cost. The CORE data logger is the athlete's standard sports watch or cycle computer, or the free mobile app.
| | | | | | |
| --- | --- | --- | --- | --- | --- |
| Device | Invasiveness | Accuracy during exercise | Accuracy during everyday living | Usability in outdoor sports | Cost |
| | | | | | |
| | | | | | |
| Artery & urinary catheter, esophageal tube | | | | | |
| | | | | | |
| | | | | | |
| | | | | | |
| | | | | | |
| | | | | | |
| | | | | | |
| Skin thermometer (forehead, armpit) | | | | | |
CORE is the choice for outdoor sports
An objective look at the various thermometers shows that CORE and the e-pill are the only devices suitable for measuring core body temperature in outdoor sports such as cycling and running. The e-pill's high accuracy is offset by its medium invasiveness, usability issues, and a high cost each time the device is used.
CORE not only gives medical-grade accuracy (slightly lower than the e-pill), but is also non-invasive, highly usable in outdoor sports, and has a one-time purchase cost. These objective criteria make it easy to understand why so many professional teams and amateur athletes have adopted CORE.
For continual monitoring of everyday living situations (circadian and fertility cycles, fever tracking, etc), CORE, e-pills and continuous rectal probes all have high accuracy. However, the e-pill's recurring expense and the rectal probe's invasiveness make them unsuited for everyday use.
Forehead scanners and tympanic (ear), under-tongue, and armpit thermometers are all inexpensive and easy to use in everyday living situations. However, when referenced against the e-pill, they have low/medium accuracy. Their accuracy can range from 0.5–1.0 °C (0.9–1.8 °F) below and above reference values.
In these same everyday living tests, CORE accuracy is almost as high as the e-pill. In other words, when users' ear/mouth/forehead thermometers give different readings than their CORE – it is the CORE device that is most accurate.
The CORE device also allows for continual monitoring without user actions. It unobtrusively records core temperature at all times it is being worn, including during sleep. It will store up to 48 hours of data, which can then be synced to the cloud through the CORE mobile app. In contrast, continually monitoring temperature by ear/mouth/forehead thermometers is obviously limited by the frequency of data recording.
For continual monitoring of everyday living situations, CORE is clearly the best choice on the market.
---