The CORE sensor is a compact, wearable device that delivers highly accurate and continous core body temperature measurement data.
Positioned on the torso, usually on a heart rate monitor strap or with medical-grade adhesive patches, the CORE sensor measures 'thermal energy transfer' to calculate your real-time core body temperature.

You can view your live core body temperature data and save it with the CORE App or with many popular sport computers and watches including as Garmin, Wahoo, COROS, Apple watches and more.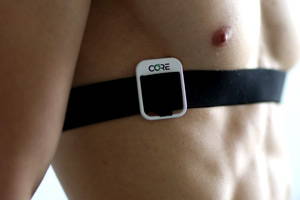 The CORE sensor is rechargeable and waterproof and made from medical grade plastic that is anti-allergic and gentle against the skin.
Why is your core body temperature important?
Your core body temperature is individual to you. Knowing your own internal temperature helps you to monitor your well-being 24/7 and track your circadian rhythm or fertility in women.
During sporting activity, when you get hot, your performance drops. The insights delivered by your CORE sensor can help you optimise your training and racing. Set alerts to warn you to cool down and avoid overheating and use your data to train and condition your body and enable you to take make smarter decision so you can race better.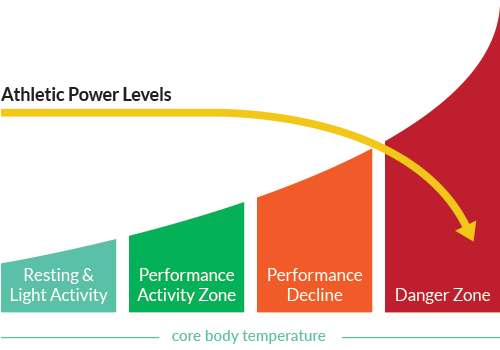 How does core body temperature relate to sporting performance?

This video provides an overview how core body temperature relates power output and and how the CORE sensor can be used in sports.
How to use the CORE sensor
After setting up the CORE sensor once, it automatically connects to your paired devices. Just keep it charged, and shake it to check for the blinking green light... you are now ready to go. That's it.
The CORE sensor stores your core body temperature data onboard for 2 days and via the CORE App and the CORE Cloud you can view current and historical data.
You can use the CORE App and a host of compatible devices and services to view live data and to store and analyse your data.

Take a look at setting up and using the CORE sensor.
the CORE sensor for Sports
The CORE sensor is already by leading athletes, teams and coaches. Our website and App you gives you free access to Coaching resources from accomplised athletes, coaches and scientists to learn more about core body temperature data and use this to your advantage.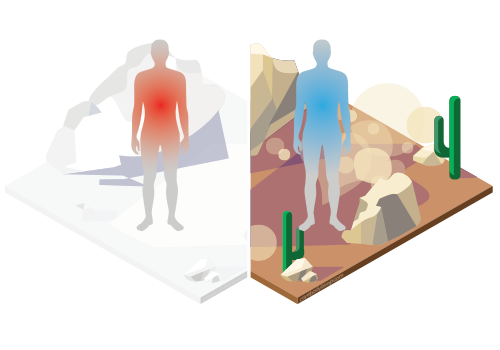 CORE for Heat Stress
Set your own safe-limits to maximise performance while avoiding overheating.
Learn More >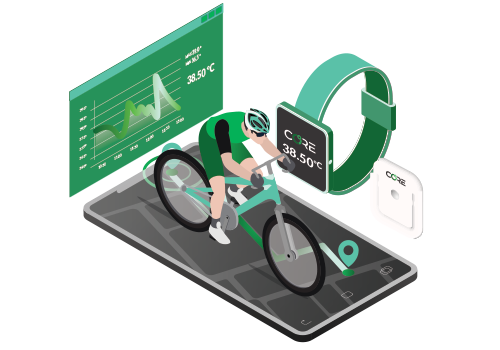 CORE for Heat Training
Effective heat training to condition and adapt your body for better performance.
Learn More >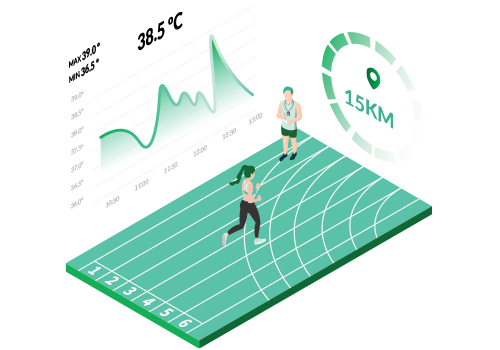 CORE for Active Cooling
Understand your own thermoregulation for effective preparation and cooling.
Learn More >

The 'heat ramp test' for example helps athletes determine their optimal 'heat training zone' to ensure they are traing just right... and not training too hot, too cool, too little or too much.
Real-time and historical core body temperature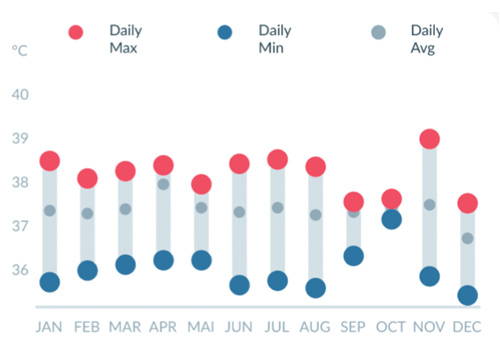 Trends in core body temperature behaviour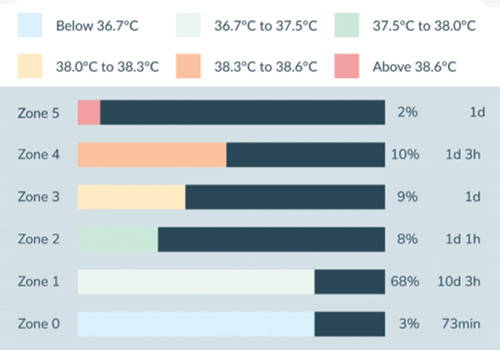 Activity in your defined temperature zones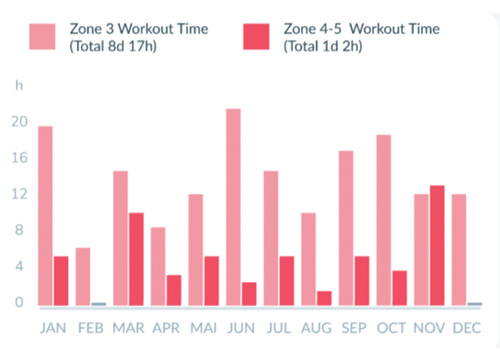 Thermal load and effective heat training
Are you ready to release your untapped power?
Are you ready for the CORE sensor?
The CORE Body Temperature Monitoring Sensor is the most affordable, easy and convenient solution for athletes to capture highly accurate core body temperature data.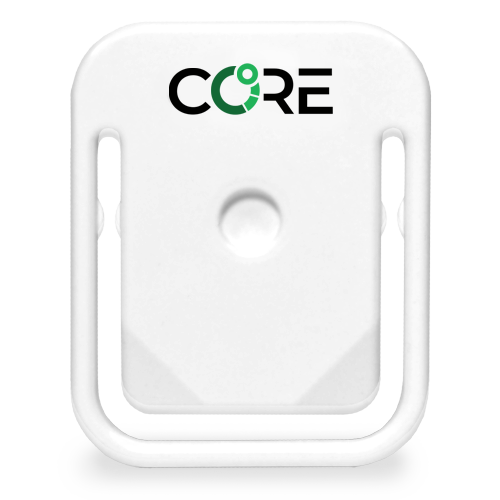 The CORE sensor can be purchased directly online or from one of our trusted retailers
The complete specifications for the CORE sensor along with accessories are available in our online shop.