Connecting CORE to the smartphone app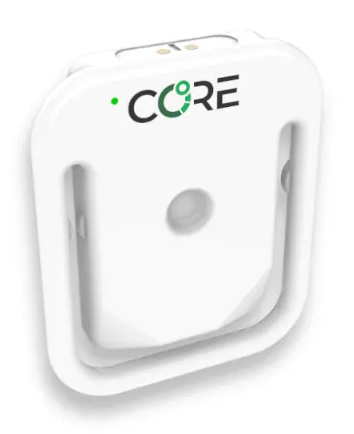 Connect CORE with your Android or iOS CORE phone app
Ensure CORE is on by shaking up and down the device until green light blinks a few times
If the CORE does not automatically appear, press "scan devices"
From the list, select the CORE device and connect
Tip: Inside settings you can rename your CORE sensor which makes it easier to identify especially if you have multiple CORE devices.
If no devices are found, check the Troubleshooting below
---
NEXT STEPS
Would you like to use CORE for SPORTS?

Would you like to update your firmware?
The CORE smartphone App will prompt you to update to the latest firmware when a new version is available

To manually update, inside the settings the current firmware version will be displayed and you can "Update firmware".
- Ensure you have an internet connection
- Ensure the CORE remains close to the phone
- Allow up to 10 minutes for the update to complete.
---
TROUBLESHOOTING
BLE SCANNING PROBLEM
Press "scan devices" on the app and wait for 5 seconds for the scan to complete.
CORE BATTERY IS EMPTY
Charge your CORE device for at least 15 minutes.
CORE IS IN OFF STATE
Shake CORE until LED starts blinking to switch it on.
WRONG SMARTPHONE SETTINGS
Make sure Bluetooth and location services are enabled on your phone.
ISSUE WITH SMARTPHONE BLE SUBSYSTEM
Occasionally, the BLE subsystem on the phone crashes. Restart the phone and try again.
ELECTROMAGNETIC INTERFERENCE / TOO MANY BLUETOOTH SIGNALS IN THE SAME ROOM
Go into a less noisy environment and try again. Some phones can only detect a limited number of BLE devices at the same time.
BLE RECEIVER SIGNAL SATURATION
Some BLE receivers cannot cope with too high signal strength. Increase the distance between CORE and smartphone to 1 meter and try again.
RESTARTING BLUETOOTH
Try switching off your phone's bluetooth, then switch it on again.
Quit the app and reopen it.
Restart your phone.
---